A family of believers seeking the truth and the life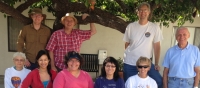 The Green Thumb Gang started many years ago by members of the congregation to utilize church members to care for the church's property at Immanuel. In doing this, the church can keep down the financial obligations that would be necessary for the property upkeep.
The Green Thumb meets every Tuesday at 8:00 AM to mow, plant, pull weeds, water, sweep, rake, trim, etc. A social 'coffee break" usually occurs about 9:30 AM. Fun, work, exercise, socializing, and doing a service for our church is involved. Anyone interested is welcome to come by and join us. No horticulture knowledge is required, just a desire meet, work, and enjoy each other and the weather.